Working with the Boyntons and other DCVL members, the Lafayettes held Citizenship School classes focused on the literacy test required for voter registration and canvassed door-to-door, encouraging African Americans to try to register to vote. (Learn more about the day-to-day work of SNCC in Selma from field reports by Colia and Bernard Lafayette. Here is an April 6, 1963, report by Colia Lafayette. Also read one by Bernard Lafayette in "Selma: Diary of a Freedom Fighter" by James Forman in The Making of Black Revolutionaries.)
Prathia Hall, a SNCC field secretary who came to Selma in the fall of 1963, explained:
To encourage attendance at a mass meeting, the Lafayettes combined a May 14, 1963, memorial service for Mr. Boynton with a voting workshop and rally. SNCC leader James Forman spoke and 350 people participated. Whites first tried to intimidate the minister into rescinding use of the church and then gathered in an armed, threatening crowd circling the church. Since the mob included Sheriff Jim Clark and other local lawmen, SNCC workers sought help (unsuccessfully) from federal officials and ultimately remained inside—singing freedom songs to bolster their courage—until 1 a.m. when the armed crowd had dispersed.
This practice of armed self-defense was woven into the movement and, because neither local nor federal law enforcement offered sufficient protection, it was essential for keeping nonviolent activists alive. (More in article by Charles E. Cobb Jr.)
Photos: A brave young boy demonstrates for freedom in front of the Dallas County courthouse in Selma on July 8, 1964. Selma sheriff deputies approach and arrest him. Photos used by permission of Matt Herron/Take Stock Photo.
In another example, in summer 1964, Judge James Hare issued an injunction making it illegal for three or more people to congregate. This made demonstrations and voter registration work almost impossible while SNCC pursued the slow appeals process. Although the Justice Department was pursuing its own legal action to address discrimination against Black voters, its attorneys offered no protection and did nothing to intervene when local officials openly flaunted the 1957 Civil Rights Act.
The FBI was even worse. In addition to refusing to protect civil rights workers attacked in front of agents, the FBI spied on and tried to discredit movement activists. In 1964, the FBI sent King an anonymous and threatening note urging him to commit suicide and later smeared white activist Viola Liuzzo, who was murdered after coming from Detroit to participate in the Selma-to-Montgomery March.
By mid-afternoon SNCC was so concerned about those who had been standing all day in the bright sun, that two field secretaries loaded up their arms with water and sandwiches and approached the would-be voters.
Highway patrolmen immediately attacked and arrested the two men, while three FBI agents and two Justice Department attorneys refused to intervene. (Read an account of the day by Howard Zinn here.)
This federal inaction was typical, even though Southern white officials persistently and openly defied both the Civil Rights Act of 1957 and constitutional protections of free assembly and speech. The FBI insisted it had no authority to act because these were local police matters, but consistently ignored such constraints to arrest bank robbers and others violating federal law.
In contrast, SCLC sought to quickly mobilize large numbers of people for short-term demonstrations and goals. SCLC's model relied on creating a crisis that would rally public opinion and force federal intervention. Read more about these differences here.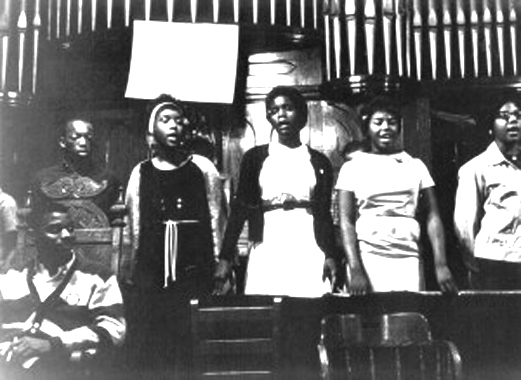 High school students sing freedom songs in Brown Chapel. © John Kouns, 1965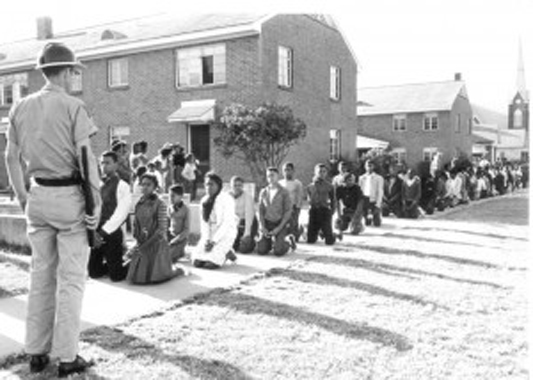 Young students marching for voting rights are placed under arrest. © John Kouns, 1965
Though the top-down approach to the Civil Rights Movement focuses on King, presidents, and the Supreme Court, at the grassroots level, the Movement was dominated by young people, women, and others with limited formal education and scarce economic resources.
Her father and grandfather worked with the Southern Tenant Farmers' Union and she was a strong organizer in her own right, founding an important NAACP Youth Branch in Jackson, Mississippi, and working for Medgar Evers before moving to Selma to organize with her new husband. She remained there until, at the request of SNCC Executive Secretary James Forman, she relocated to nearby Birmingham to help organize the spring 1963 demonstrations. In Birmingham, being pregnant offered no protection and she was badly injured when white officials used fire hoses to attack demonstrators.
Prathia Hall, a Philadelphia native who began working with SNCC in Southwest Georgia, joined the Selma effort in the fall of 1963 when the Lafayettes moved on to Nashville. Philosophically nonviolent, she was a brilliant organizer and orator who later became an ordained minister. She returned to Selma after Bloody Sunday to help SNCC and local activists figure out how to move forward.
Diane Nash, whose plan for a nonviolent war on Montgomery inspired the initial Selma march, was already a seasoned veteran, leading the Nashville sit-ins, helping found SNCC, and taking decisive action to carry the freedom rides forward. In 1961 she married Jim Bevel and then followed him out of SNCC and into SCLC. According to SCLC insider Andrew Young, "No small measure of what we saw as Jim's brilliance was due to Diane's rational thinking and influence."