Learn More
A Perfect Storm: The Takeover of New Orleans Public Schools;
Part Three: Disenfranchised Communities
Learn More
"A Perfect Storm: The Takeover of New Orleans Public Schools" Part Three — Disenfranchised Communities
A
Perfect Storm: The Takeover of New Orleans Public Schools is a series of short videos, that reveals the real story behind the creation of the nation's first all charter school district.
Disenfranchised Communities is the third in the series by the New Orleans Education Equity Roundtable's films about the takeover of public education in New Orleans. A Perfect Storm: Disenfranchised Communities shows how privatizing public education has disenfranchised the New Orleans community by limiting the voices of parents and community members. The film touches on the fired school employees causing the loss of thousands of middle-class jobs after Hurricane Katrina which was the first step in separating families from their teachers and schools. This model of disenfranchising communities is being exported to other cities around the country.
The New Orleans Education Equity Roundtable hopes that all New Orleanians will find our videos helpful as they join in telling the truth about New Orleans public schools. We hope that these videos will be useful tools in the fight to bring our schools back to local democratically elected control. We believe that collectively, we can all stop the exporting of this model and play a role in returning our schools to local control and we offer this to our community to aid in advocacy and activism.
We are looking to fund more short videos, followed by an hour-long documentary which will chronologically tell the story from 2005 – 2015. Donate button coming soon!.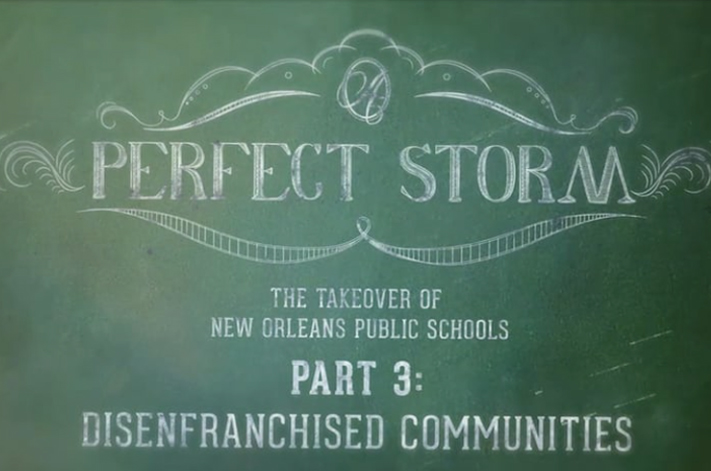 Phoebe Ferguson
Dr. Raynard Sanders
Karran Harper Royal
Phoebe Ferguson
Tobias Arturi
Noël Anderson
Tobias Arturi
Production Assistants
Kelsey Noble
Kendrick Royal
Charles Hatfield
Barbara Ferguson
Karran Harper Royal
Kari Harden
Adrienne Dixon
Kristen Buras
Raynard Sanders
Prudence Brown
Mercedes Snyder
Interviews – In Order of Appearance
Rev. Willie L. Calhoon Jr.
Attorney Shawon Bernard
Dr. Raynard Sanders
This episode was made with the support of the Southern Education Foundation. Southern Education
Learn More
A Perfect Storm: The Takeover of New Orleans Public Schools; Part Two
Disenfranchised Communities
Learn More