Learn More
A Perfect Storm: The Takeover of New Orleans Public Schools; Part Two
The Illusion of Choice
Learn More
"A Perfect Storm: The Takeover of New Orleans Public Schools" Part Two — The Illusion of Choice
A Perfect Storm: The Takeover of New Orleans Public Schools is a series of short videos, that reveals the real story behind the creation of the nation's first all charter school district.
For the past nine years, state education officials and corporate school reformers have touted the dramatic turnaround of New Orleans public schools. National media outlets have published numerous articles and TV news stories of the miracle in New Orleans citing unprecedented academic achievement where parents finally had School Choice.
The first Perfect Storm video focuses on the illegal takeover and the academic failure of the Recovery School District. Part 2 explores the reality of an all charter district where parents no longer have neighborhood schools.
The film features interviews with community members and leaders in the New Orleans education who were faced with the daunting task of reopening schools immediately following Hurricane Katrina.
We are looking to fund more short videos, followed by an hour-long documentary which will chronologically tell the story from 2005 – 2015. Donate button coming soon!.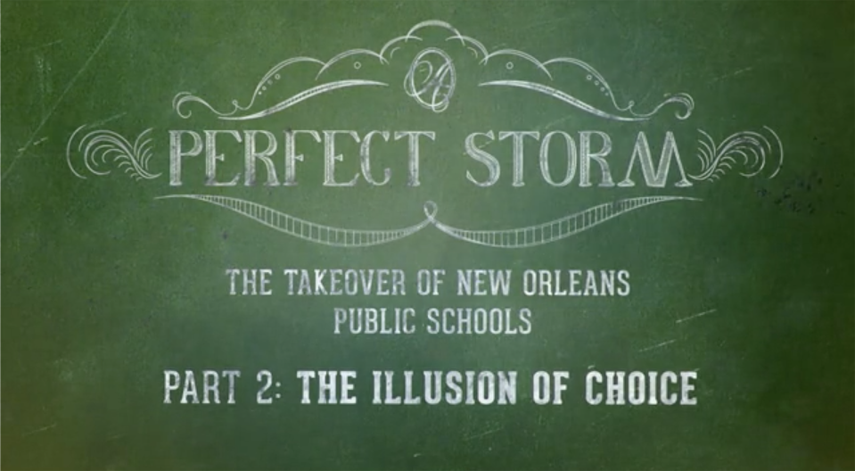 Phoebe Ferguson
Dr. Raynard Sanders
Karran Harper Royal
Phoebe Ferguson
Tobias Arturi
Lily Keber
Tobias Arturi
Elizabeth Jeffers
Noël Anderson
Tobias Arturi
Production Assistants
Kelsey Noble
Kendrick Royal
Kelsey Noble
Kendrick Royal
Charles Hatfield
Barbara Ferguson
Karran Harper Royal
Kari Harden
Adrienne Dixon
Kristen Buras
Raynard Sanders
Interviews – In Order of Appearance
Steve Monaghan
Karran Harper Royal
Louella Givens
Dr. Barbara Ferguson
Daryl Kilbert
Learn More
A Perfect Storm: The Takeover of New Orleans Public Schools; Part Two
The Illusion of Choice
Learn More