Characterized as scary and from McKinney, Texas Police Productions, it is Coming Soon: The Attack of the 14-Year-Old Black Girl! The nation is talking. Dajerria Becton who might she be and what is the story?
By
Lalo Alcaraz
| Originally Published at
Pocho.
June 10, 2015 | ©2015 Lalo Alcaraz / Universal Uclick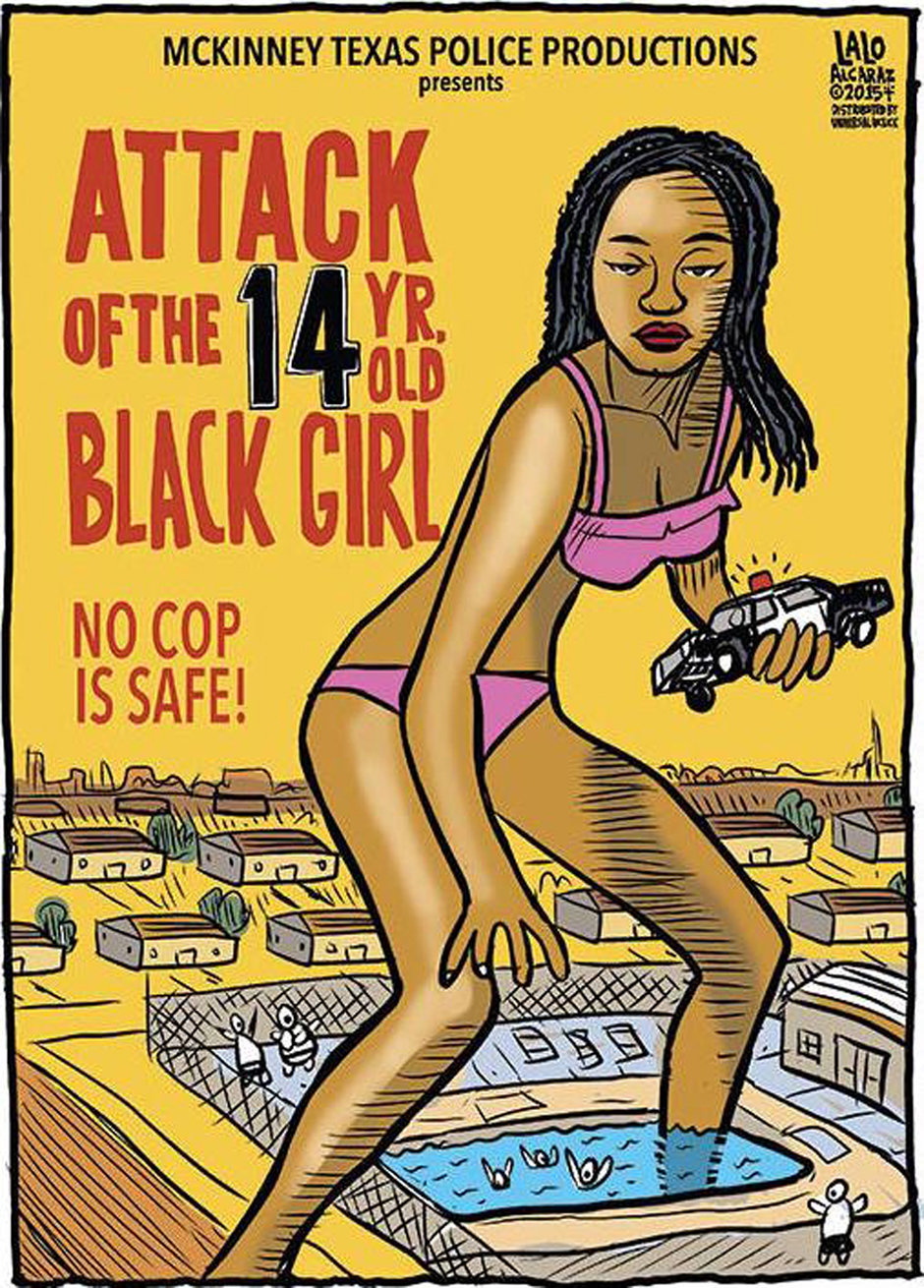 Coming soon from McKinney, Texas Police Productions, it's the next summer horror science fiction cop flick, Attack of the 14-Year-Old Black Girl! A frightening teen girl in a bikini terrorizes the police force of a small Texas suburb, making them respond with excessive force and brutality reserved only for the worst of America's swimming thugs!
Who will protect our nation's pool parties from this monster? Rated R for Racist!
Featuring Emma Stone as the Asian Neighbor.
Jefe-in-Chief Lalo Alcaraz is probably the most prolific Chicano artist in the nation, according to this bio. This award-winning joker has spent two decades chronicling the political ascendancy of Latinos in America and pushing the boundaries of Chicano art. He is the creator of the first nationally-syndicated, politically-themed Latino daily comic strip, "La Cucaracha," he co-founded the political comedy troupe Chicano Secret Service and he co-hosts the infamous "Pocho Hour of Power" on KPFK in Los Angeles (90.7 FM). Lalo also teaches at Otis College of Art & Design in L.A. Alcaraz recently won the So Cal Press Club Award for Best Editorial Cartoons in 2010. Rumor has it he was actually born here.
Email Lalo
This piece was reprinted by EmpathyEducates with permission. We thank the Artist, Lalo Alcaraz for his kindness, astute observations, daring, or is it delightful toning. We believe this cartoon invites a much needed and vital conversations.