'People die and words live, as do shooters, and what is the significance?
#LastWordsHeard Speak; Illustrations — A Tribute to Men Killed By Police
'I created these images to raise awareness about racist police violence in America and as an expression of solidarity. I experienced police brutality in my native Iran, and the struggle here to confront that violence resonated with me.'
~ Shirin-Banou Barghi
Imagine, scary as it is, you have been beaten, shot, or held by a policeman, choked until you could not breathe. As your time passes and life is adrift, do you wonder; might someone help me? Will anyone assist? You hear voices. Oh no, might that be the one who took you off your feet? Those are the last words you remember. What did the officer say, and what do you think? These are not rhetorical questions. In America, it happens everyday. Everyday lives are lost and how many at the hands of police?
We cannot say. The U.S. government doesn't track the number of law enforcement kills. "When cops are killed, there is a very careful account and there's a national database," said Jeffrey Fagan, a law professor at Columbia University. "Why not the other side of the ledger?" Why not? Ask that question and you will discover the answers differ. There are three sources of information about deaths caused by police—the FBI numbers, figures from the Centers for Disease Control and data at the Bureau of Justice Statistics—and all of these vary. Consistency? It does not exist.
Definitions too disagree. In many regions of the nation "justifiable police homicides" are all there is. Such cases are not thought to be "actual offenses." But what is? Innocent individuals, men, women, and children, killed by police.
There are phrases to describe what now seems to be too common. – Don't Shoot we sing. Our young Black and Brown children do imagine, scary as it is. How can they not help but wonder #IfTheyGunnedMeDown how will I be portrayed? #HandsUp or does it matter? Does it matter more what the police say?
Does the officer have the last word? And again, what did police say? Journalist, Filmmaker Shirin-Banou Barghi offers a glimpse into the unimaginable.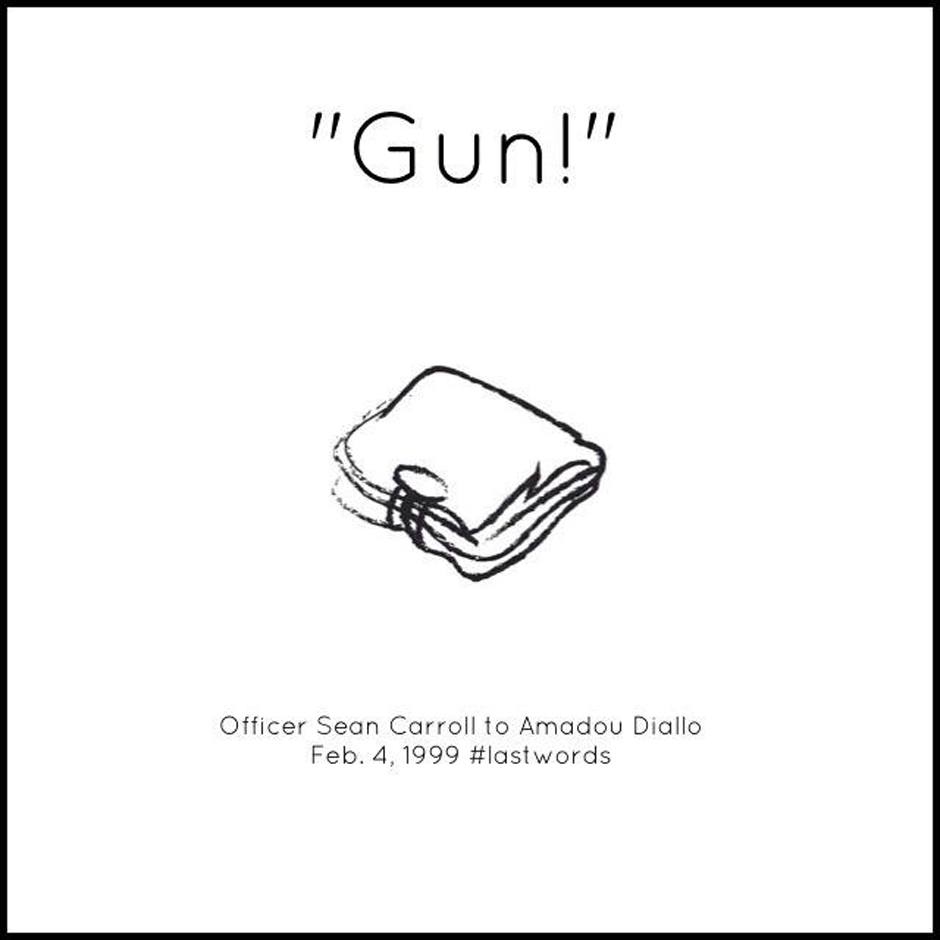 "Gun!" ‪#lastwords heard by Amadou Diallo. ‪#PoliceBrutality ‪#ferguson ‪#stoppoliceviolence ‪#AmadouDiallo
Amadou Diallo Diallo was shot outside his Bronx apartment. The police officers had mistaken him for a serial rapist, who was later apprehended. -pri.org Journalist. Photographer. Filmmaker. Shirin-Banou Barghi created this project after recent events reminded her of the 2009 uprising in Iran and the violent police crackdown against opposition supporters. ~ How the legacy of Amadou Diallo lives on in New York's immigrant community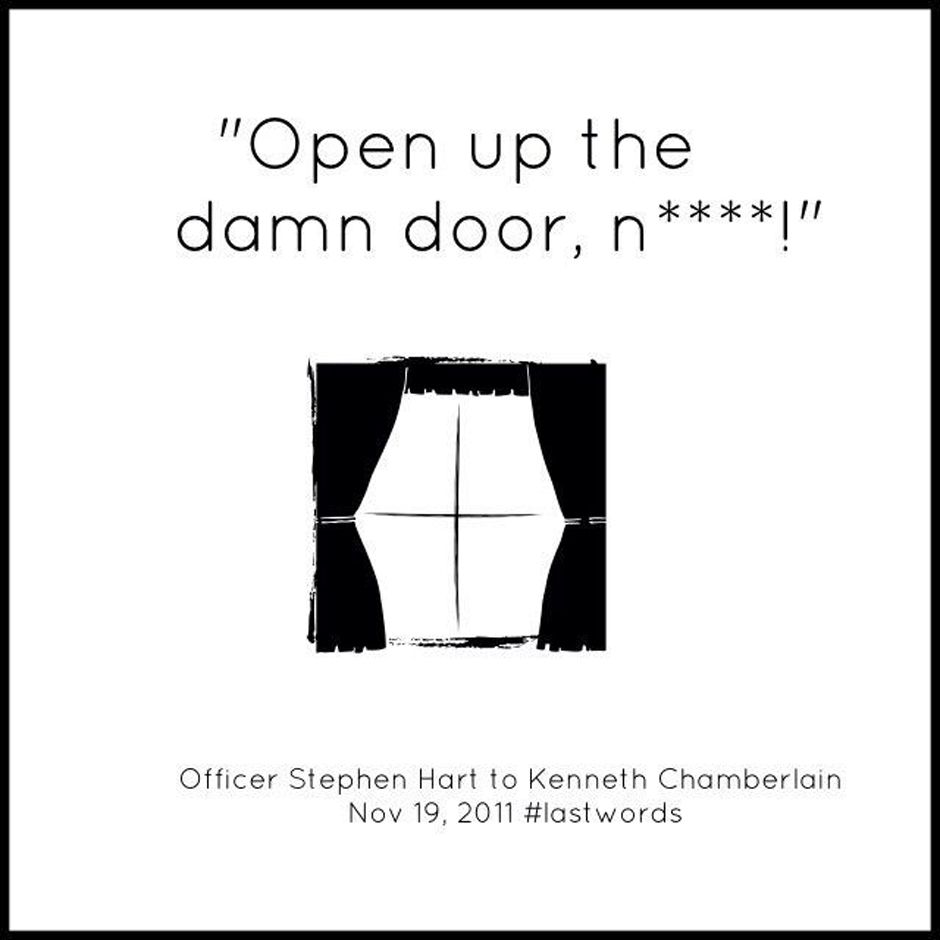 "Open up the damn door … !" ‪#lastwords heard by Kenneth Chamberlain. ‪#PoliceBrutality ‪#ferguson ‪#kennethchamberlain
Kenneth Chamberlain She pushed out a back door and ran into the darkness beneath overarching oaks. He lay on the floor near his kitchen, two bullet holes in his chest, blood pooling thick, dying. ~ 'Officers, Why Do You Have Your Guns Out?'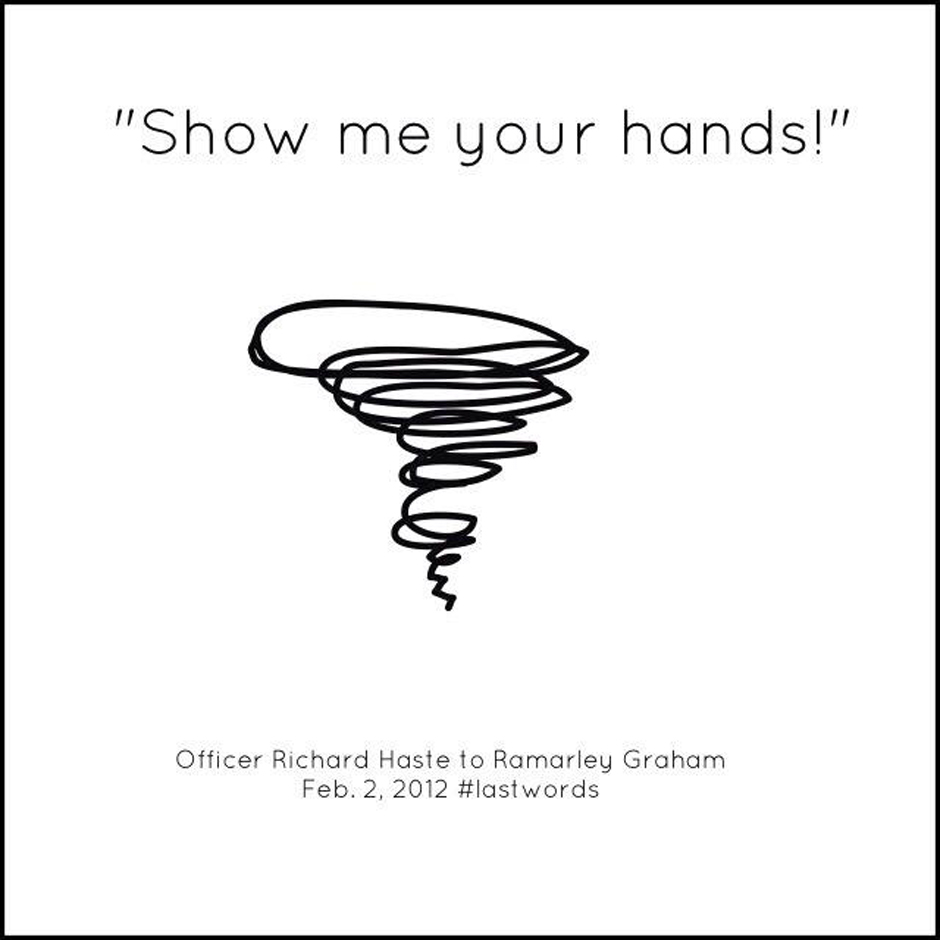 "Show me your hands!" ‪#lastwords heard. ‪#RamarleyGraham ‪#PoliceBrutality ‪#ferguson ‪#stoppoliceviolence
Ramarley Graham On February 2, 2012, plainclothes NYPD Officer Richard Haste followed unarmed 18-year-old Ramarley Graham to his home in the Bronx. Violently, the officer broke down his door without a search warrant, and then, killed him in front of his grandmother and younger brother. Bronx District Attorney Robert Johnson convened a Grand Jury that voted to indict Officer Haste, but a judge threw out the indictment, citing prosecutorial error. A second Grand Jury then refused to re-indict him. "Ramarley Graham is a name the country should know, but doesn't."Graham's case is reminiscent of Michael Brown's in Ferguson, Missouri." ~ Washington Post.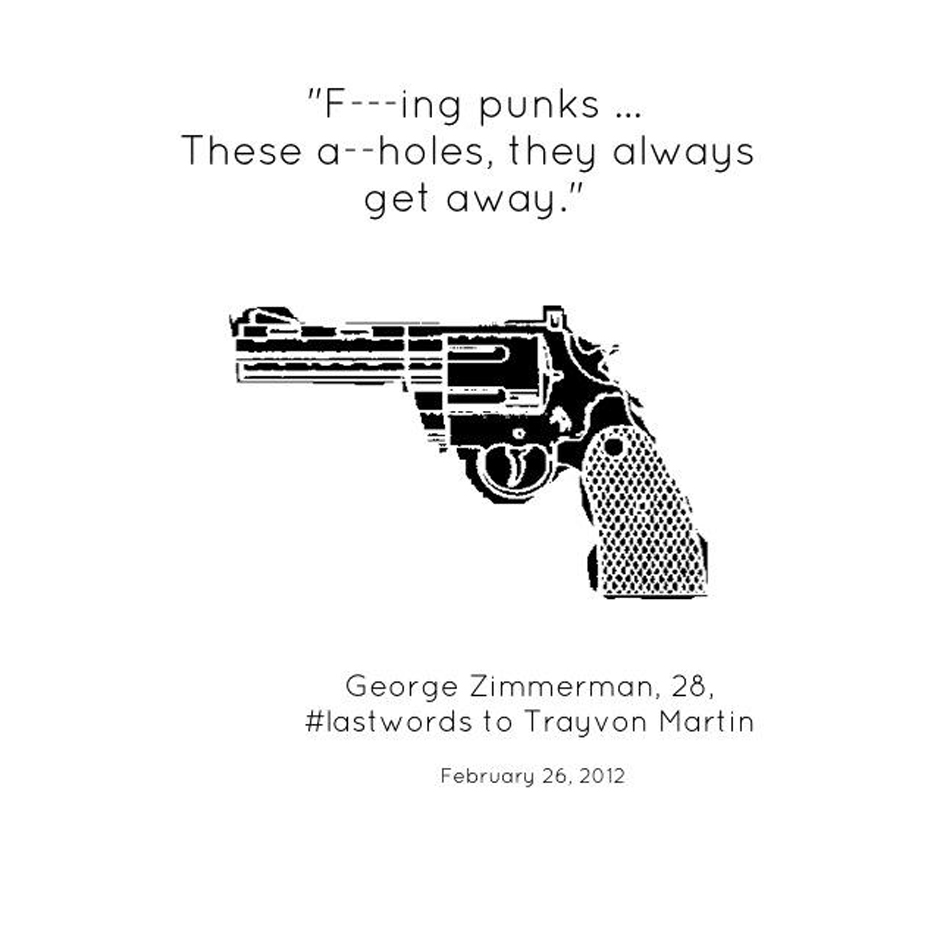 "F—ing punks … These a–holes they always get away." ‪#LastWords heard. ‪#TrayvonMartin ‪#HandsUpDontShoot ‪#Ferguson ‪pic.twitter.com/RnZMeYlkTl
Trayvon Martin "A man was watching him," said Rachel Jeantel, 19, who was on the phone with Martin just before he was fatally shot. "He said the man kept watching him. He kept complaining that a man was just watching him." ~ Key witness recounts Trayvon Martin's final phone call ~ CNN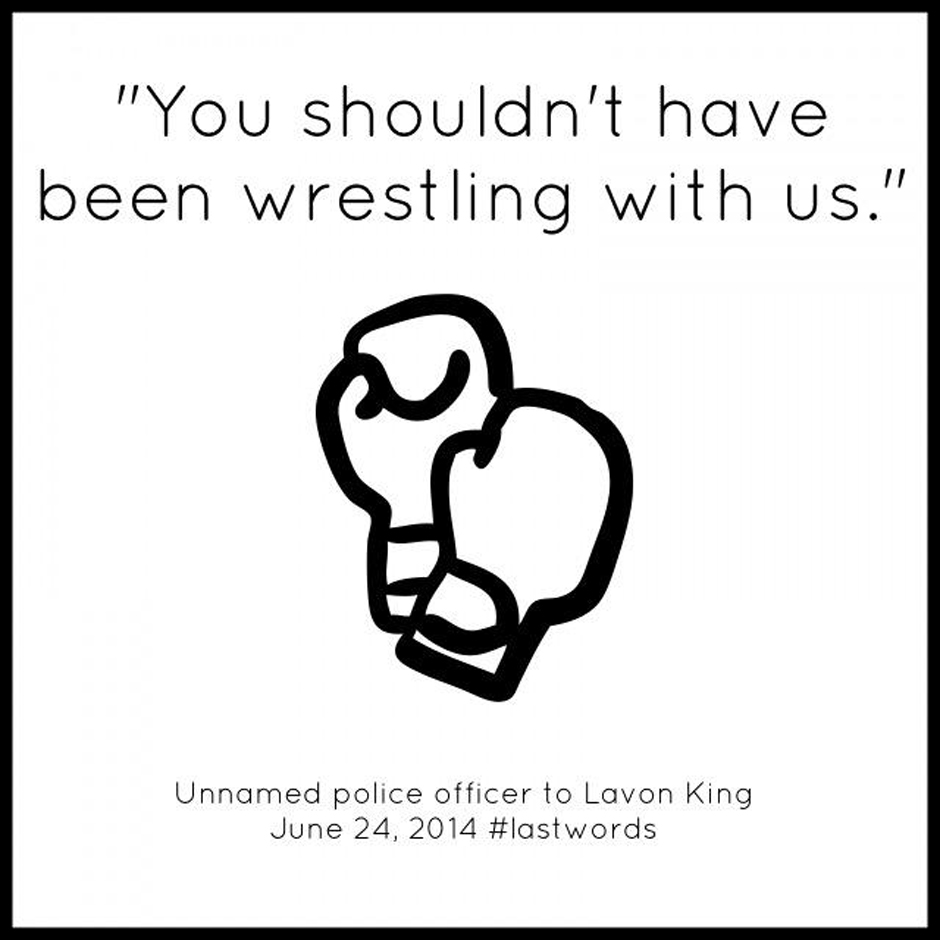 "You shouldnt have been wrestling with us." ‪#lastwords heard. ‪#LavonKing ‪#PoliceBrutality ‪#Ferguson ‪#HandsUpDontShoot
Lavon King A woman recounted the incident, having heard the gunfire from her window nearby. "It happened really quickly," said the woman, who only provided her first name, Yvette. "I heard two gunshots, they sounded like firecrackers. Then I heard a man say, 'Why did you shoot me?'"
Yvette then looked out her window into the yard of 105 Ege Ave. and says she heard the police respond, "You shouldn't have been wrestling with us." ~ NewJersey.com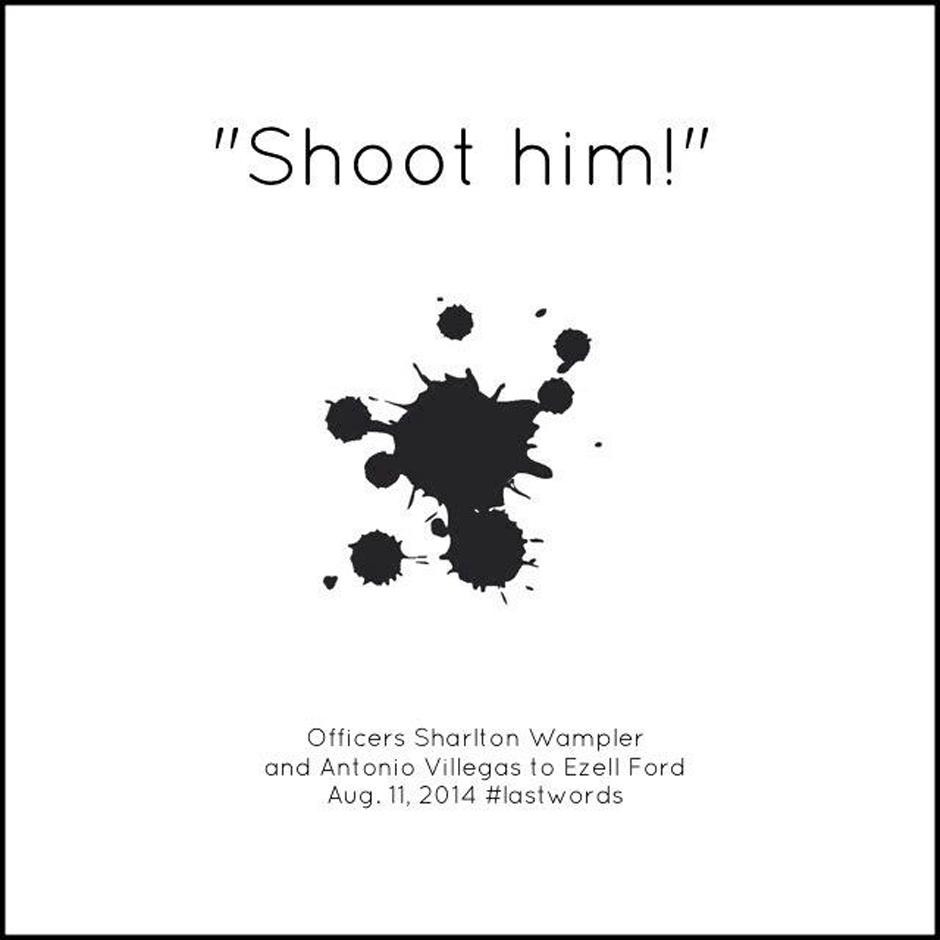 "Shoot him!" ‪#lastwords heard. ‪#EzellFord ‪#PoliceBrutality ‪#ferguson ‪#stoppoliceviolence
Ezell Ford There's not yet information about what he was doing wrong, if anything. Dorene Henderson, a family friend, witnessed part of the incident and "saw no struggle between the officers and Ford." Henderson said that neighbors began yelling at the officers: "He's got mental problems." Ford's cousin told a Los Angeles news station "Every officer in this area, from the Newton Division, knows that — that this child has mental problems," "The excessive force … there was no purpose for it. " ~ Washington Post.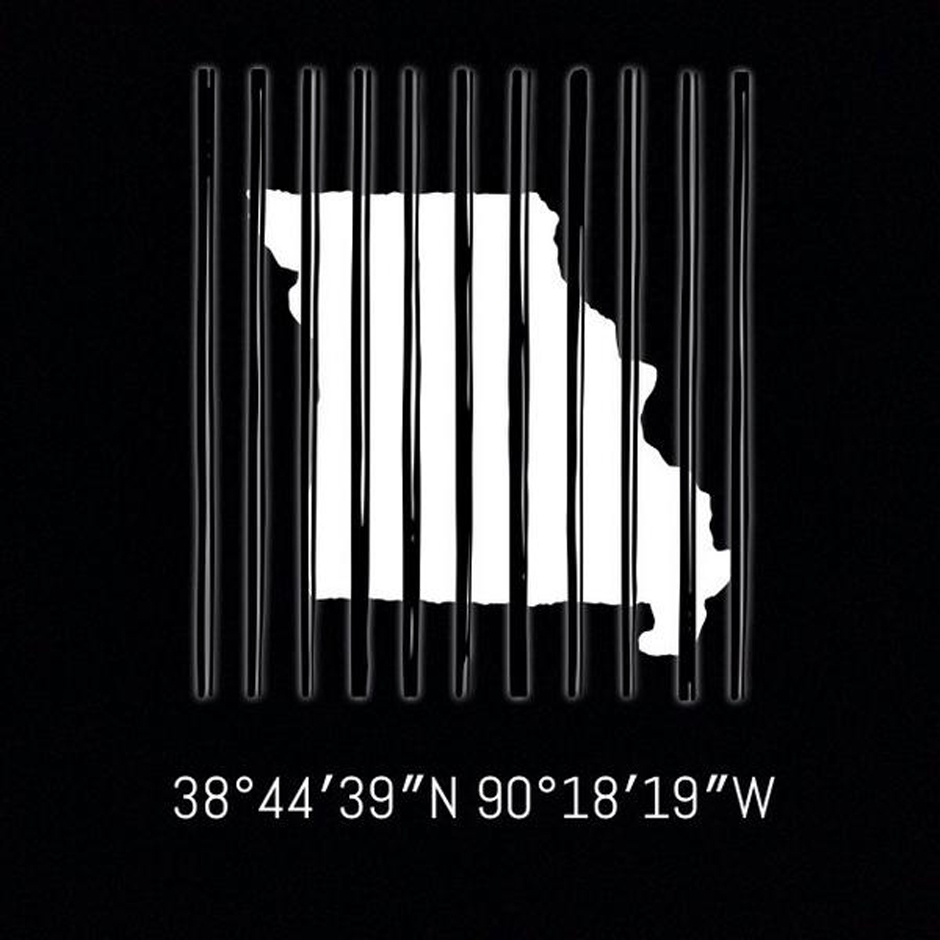 ‪#Ferguson‪ #HandsUpDontShoot #shawshooting #BlackLivesMatter #FergusonOctober #PoliceBrutality #NoJusticeNoPeace ‬
VonDerrit Myers Jr. A shot to the head killed an 18-year-old teenager shot to death during an encounter with an off-duty police officer, the medical examiner said Thursday. Preliminary autopsy results showed that VonDerrit Myers Jr. was shot from six to seven times in the lower extremities. St. Louis Police Chief Sam Dotson said the officer was off-duty, working a secondary job for a private security company patrolling the Shaw neighborhood, when he chased and fatally shot an 18-year-old male who the officer believed came at him aggressively in a gangway. The officer was unhurt. The officer fired 17 times. ~ St. Louis Dispatch.
See the full project at Shirin-Banou Barghi's Twitter Media page or at Shirin-Banou-Barghi's Imgur @shebe86
Shirin Barghi is a Journalist. Filmmaker. Humans of Tehran Founder. Hailing from Iran aka 'Eye-Ran' aka 'The Islamic Republic' aka 'The Axis of Evil' and the creator of #LastWords images and information. She also created the illustrations for #LastWordsHeard, and Remembering #Michael Brown. Follow her on Twitter @shebe86
This series of images, along with the information was reprinted by EmpathyEducates with the kind permission of the Creator, Shirin-Banou-Barghi. We are more than honored and feel privileged to share such a powerful gallery of work. We are grateful for Shirin-Banou-Barghi's reflection and for sharing a vital perspective.