Irene Robinson expressed her desire to take her grandchildren to Anthony Overton Elementary School again, The Chicago Public Schools (CPS) district decided to shutter the building for good in 2014. Overton Elementary, at 221 E. 49th St. in the Bronzeville neighborhood, is one of 50 schools the Chicago Board of Education voted to close citing at first, and erroneously, this would help alleviate a massive budget deficit. Photographic Credit; Progress Illinois on a walk with Robinson and two of her grandchildren to what CPS has deemed to be their new welcoming school.
Introductory Essay by Betsy L. Angert | Originally Published at EmpathyEducates. August 19, 2014
"Mayors today have more fun," Thomas Friedman effusively explained in a July 2013 New York Times column. Obsequious as it might be, Friedman fawned; he found no fault in what is America's "metropolitan revolution." Cities, he asserts are "The great laboratories and engines of our economy." 'Cities are doing the hard work of growing our economy.' But did Friedman ask the question; is it possible to grow an economy without an adequate investment in our children? Grandmom, Irene Robinson invites us to read her reflection. Grandmother to nine vibrant children Ms. Robinson challenges the Pulitzer Prize winner's claim "The country looks so much better from the bottom up — from its major metropolitan areas."
In our largest cities we see that Mayors are closing our schools. The people persuaded to vote for them believe they were played for fools. Violence increases out on the streets and Mayors, in Chicago, Philadelphia, New York, Detroit, Baltimore, and Los Angeles retreat to their suites. Large city Mayors eschew discussions that do not neatly fit into their agenda.
Meanwhile, our children are being killed out in the streets. Schools are shuttered. As one Ms. Robinson exclaimed, it is all overwhelming. There is a feeling among the families that the Mayor closed "the heart of our community." We can barely breathe. There is no safe or sane refuge. Without an equitable education our children have no protection.
The Mayors speak of the future. In Chicago, Mayor Emanuel offers, "To have a 21st-century economy, you need a 21st-century foundation."
And Mayor, what about an education? How does that fit into your equation? Mayor Rahm Emanuel will tell you, "This

[massive school closures on the South and West sides] has been very difficult… There is a lot of anguish and I understand that and I appreciate it," said Emanuel, fresh off the Utah slopes. In his first public address after deciding to close 54 public schools, a wind-burned Mayor declared "[T]he anguish and the pain that comes from making the change is less amenable, in my view, or pales compared to the anguish that comes by trapping children in schools that are not succeeding, and trapping children in schools that don't give them the opportunities that will open the doors to the future."

Southside grandparent Irene Robinson exclaims noting the history, 'Please tell me." How could it be that there is no opportunity where we live?' 'Our neighborhood [Bronzeville] was home to cultural giants like Nat King Cole and Gwendolyn Brooks. ' First Lady Michelle Obama grew up in our windy City. She attended Chicago Public Schools. The young Michelle Robinson [no relation] saw segregation. Indeed, Mayor Emanuel, she saw its rejection. Mrs. Obama "appreciates the strength of diversity, how important it is to be in a community, a classroom, where you are hearing from all perspectives."

Yet, in the First Lady's home city, schools that serve students of color have been the primary victim of the Mayor's and CPS school actions – schools were intensely segregated, and now these same learning centers are forced to close. "Mayor if this is fun, I don't get it."

Emanuel said in his first public statements after announcing the close of near fifty neighborhood schools. "If we don't make these changes, we haven't lived up to our responsibility as adults to the children of the city of Chicago." "And I did not run for office to shirk my responsibility." Shirk your responsibility? Parents ask another question, "responsibility to whom" – the entrepreneurial elite who want to steal our schools or to the community, to our children and to those who protect them?

Please Mayor, look out the window and see what you neglected. It is our history. It is our foundation. It is or was the pathway to the 21st century.

See the schools you closed and how these embodied a great tradition. Anthony Overton Elementary School, for example, was not only my family school for three generations. It was named for a man who was our inspiration!

Through a Black Manufacturer, Banker, Lawyer and Publisher, Anthony Overton our history lives; it lives through his and ultimately our successes. Mayor this is not "difficult "– it is but your decision. You decided to place our children in peril.

"The majority of the closings, phase-outs, turnarounds, and consolidations concentrated in the greater Bronzeville area…." You created the conditions – "Elementary school children who used to be able to walk to [their neighborhood school] Overton Elementary from their corner or across the street spent this year either waiting outside for a school bus during one of the coldest Chicago winters on record, or walking a mile across gang territory."

Closing our schools was not the reason you were elected. Mayor, this is not what we expected! Mayor, is "fun" your objective?
Mayor You Stole My Children's Safe, Sane Neighborhood School – A Grandmom's Decree
An open letter from Irene Robinson
We are the people and these are our children. We re the ones that have to make a better life for them, so lets start giving.

Hi, my name is Irene Robinson. Some of you may have heard of me. I'm the grandmother who had nine grandbabies kicked out of their schools. They were not suspended; nor expelled. In truth, none were actually "kicked out" of their schools. The school, Anthony Overton Elementary was kicked out of the Chicago School system. That is what our Mayor and School Board do. As you may have heard in Chicago, school closings are the rule. This hurts our children; it hurts our communities, but sadly few ever knew. Most of you never met my grandchildren. Six of them went to Anthony Overton School. The pain of losing "our schools," the children tell me, is still unbearable. But what hurts more than anything is to stand and watch someone hurt your child, and not be able to do anything about it.

My grandchildren, along with thousands and thousands of children of color (dark and brown) that live in low income neighborhoods with their parents, have been attacked in such a cruel and hateful way.

The closure of our schools has broken our communities. We are trying very hard to protect our children. Our government is allowing the Mayor and the Board of Education to deny our children a safe and quality neighborhood-school education. As I said, my grandchildren were "kicked out" by the system that shuttered their neighborhood school.

Through decades of disinvestment the City of Chicago has destroyed our Communities. They have been destroying our neighborhood for years, but with the loss of our schools…

Closing our schools was wrong for the Mayor to do after hearing from the people. The parents, community Leaders and organizations said not to close our schools. We need and want what others communities have, an opportunity to receive an education at a neighborhood school. Even the teachers, Educators told them closing schools would be wrong. All our children deserve easy access to an excellent education. Our Mayor Rahm Emanuel along with the Board of Education didn't care what the people said, They planned to do it, and they did. They didn't invest a dime in our children's education or in their neighborhood schools. They wanted a reason to force us out of our own communities, but worse then that our children are dying. And they let them. Neighborhood school closings forced our children out onto the streets. Countless now walk to distant schools through unfamiliar and dangerous neighborhoods. What we see is, now our children are dying more rapidly than ever. They are sabotaging our Schools. And now our children are paying for it with their lives. They are using our schools as a pipeline to prison or to the grave. We can see it clearly in our children's behavior.

I'm reaching out to the people for their help; we just want your support. Help us stop the violence on our Children's Education. As one parent to another, We must join together to keep our Children safe. Let them be happy, grow up and learn to love and help one another. We want the best for our Children. We instilled God in our Children to bring them up to do Right, to help fulfill their Dreams.

We want the best schools for our Children. Anthony Overton was a great school. For 23 years I was involved in Anthony Overton School. It was the heart of our community. It was where dreams were built. School plays were well-attended. There were bake sales, fundraisers, and did I mention graduations? Three-generations of my family went to Overton School. We were, as we are today, invested in Overton. Sadly, our Mayor isn't. No. The Mayor Stole My Children's Safe, Sane Neighborhood School.

Our Mayor has crushed our Children and has really hurt them. He even darkened their future by the closing of our schools. Our Children are placed directly in danger by going to the Receiving schools.

You may have seen the reports. Our children now walk spend hours on city buses. They travel through unsafe and unfamiliar neighborhoods. To not have access to their neighborhood schools as other children do, this is discrimination and segregation. It is very much present in the Chicago Public Schools and the City of Chicago.

Our City has also been discriminating against our children and their Family of Color, (Brown, Dark) Families that live in the low-income neighborhoods like myself, for a very long time.

Our Mayor, Rahm Emanuel and the Chicago School Board were very dishonest in speaking with the people about the Budget. They had the money, millions,; they just did not put the money where it was needed. The Mayor spent millions to close our schools, and at the same time he spent Millions opening up charter schools. He gave $100 million to DePaul University to add on to what they already had. He took our kid's school money and gave it to schools, less in need, those in other parts of the city. Our Children's Tax Increment Financing [TIF] money he took and gave Walter Payton School 17 million. He gave Lincoln Park school 20 Million, which the parents there don't even want. They do not need it. They tried and are still trying to give it back to our children and their schools. But the schools no longer exist. The Mayor and his Board closed them down. He Stole My Children's Safe, Sane Neighborhood School, and the Board did it with him

This has been so awful. And when it came to helping our Children, our Mayor looks the other way. He will not spend a dime to help them, not that he ever did. He only used of our Children's Tiff money to destroy their futures. Our Children are hurting; they are feeling rejected and confused. Deep anger resides inside of them. I'm trying hard to protect them from feeling such hate. I hope it is not too late. Please tell me Mayor, this is not their fate. Restore their school. Provide my children with a Safe, Sane Neighborhood Education.

Ask yourself the essential questions. How can someone sit on the Board and do Right By Our Children when he owns all of these Charter schools? Can someone with disparate interests invest in Public Education? Board members who promote "Education Management Operations" are taking money from our Children to help themselves. This does not help our Children. Nor does it provide a quality neighborhood school education. But the law allows this to happen. These are the same laws that discriminated against our Black People long ago. Today we see the same. The people who are standing by this law violated our Civil Rights. Now in the same way our Mayor, the Board, aldermen, and anyone else who allows these schools to close, have the same Racist frame of mind. Please read your history. There once was a time when a Black Child didn't have a Right to an Education. Everything a Black man had he had to fight for, just like we are fighting for our Children's Education today. Mayor, do not steal our children's future. Do not steal our neighborhood schools.

With Overton Elementary closed, my Grandchildren are in an overcrowded school. Considering the travel time and the numbers enrolled, they are not able to attend the after school programs as much as they did.

Mr. Mayor I just talked with you for a minute. We were standing by Mollison School on Dr Martin Luther King Drive. I told you to reopen our schools. I told you how bad you have hurt our communities and have hurt our Children We know the receiving schools would be put in danger, overcrowding and under supplied. The more students, the more problems – schools and their staffs struggle to get by. Do us a favor Mr. Mayor. Please, please stop the madness, stop the violence…reopen our neighborhood schools! Stop pushing our people out of their communities. Stop stealing what is necessary to survive. Our children want and deserve an equal education. Mr. Rahm Emanuel if you truly want to stop the violence you would give us back our neighborhood schools; you would stop closing the path to a safe, sane, and secure education. Please Mr. Mayor, look at our children. Do you see the pain on their faces?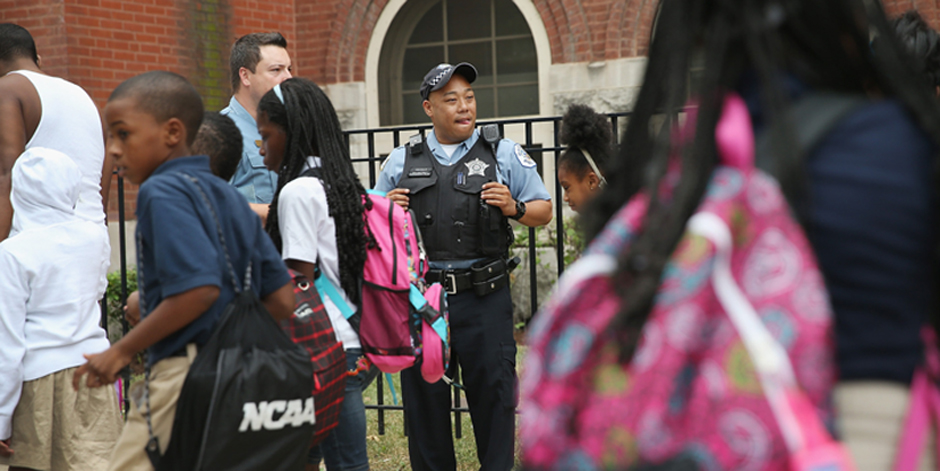 Photograph; Chicago Probationary Police officer Francis Manalo watches as students leave Laura Ward Elementary school on the Westside on August 28, 2013 in Chicago, Illinois. Manalo was posted at the school along with other police officers and city workers to provide "safe passage" to students walking to the school. The Safe Passage program was started because parents were worried about their children's safety while they walked to school across gang boundaries after the city closed 49 elementary schools and moved the students to nearby schools. (Photo by Scott Olson/Getty Images)

You stood right there on King Drive, and totally disrespected Dr Martin Luther King and all our great Leaders. You disrespected the Legacy of our History. You have disregarded all the work done in the name of love. Those who fought for our rights to an equal education would have never wanted our schools closed. Mayor, you are hurting their people. Their children. You talk about the New Chicago, but it is not meant for us! I know that directly. That is why Anthony Overton School is closed and the schools sign is torn down. You want to take away their legacy.

Anthony Overton was a slave. When he was free, he became a lawyer and was very successful. So much so that the city named our school after him. He was a very important part of Chicago history. Now this "New Chicago" Mayor, does not include him. How could that be?

Mayor you speak about our heritage, and at the same time, destroy it. Our history, our Children and our Neighborhoods – I'm afraid but I must not let fear stop me. These are God's Children that are dying by the hand of manufactured policies. We must not allow them to do this to our people. Our people were murdered, beat, put in prison and we were slaves for centuries. But our forefathers didn't give up. We didn't give up. They walked in Faith. And we walk with them. We must and will continue because all our Children lives are in danger, a danger that you yourself reap.

Because of current policies, our young ones experience much pain. Our communities are not to blame. The Mayor stole our children's safe, sane neighborhood schools. It is time for us to reclaim the promise of public education. We must remove the Mayor selected School Board from office and hold them accountable for failing our Children. There is no excuse for the way our Children have been mistreated. God created all man in his image, with love. Every person is created and needs to be treated equally

Where is the humanity in this madness? Where is the justice for our children? Yes, please stop the violence on us. Stop stealing our children's education.

I have seen how Chicago Public Schools have stopped investing in our schools. I have seen how our City has stopped investing in our community. Our alderman has not supported us at all. We have begged her to help us. I have raised so many of Overton's babies and I have seen how they have been treated. In years past, the young were helped. Then this Mayor came. Today, with the school closures everything is changed. The effect of loosing your school, has on our Children in their Family has been deadly.

This is what we are seeing today. A Chicago Public Schools formula for Black Families and their Children, living in low-income neighborhoods has set them up for failure. That is why many of our Parents today feel they can no longer fight. They cannot bear the pain. Our community is devastated. Our Children see no gain. We were left behind. Mister Mayor, Please hear their cries. A neighborhood Elementary School is gone. For us, this is not a game.

Now, CPS is coming for Dyett High School. Dyett is the only high school our neighborhood has left. My children went there. My granddaughter will start High School next year. This is another school they are trying to close. Please help us stop the violence on our Children's Education. Please understand the Mayor, The selected [not elected] School Board, and entrepreneurial education-reformers, have money. They have the power. Thankfully, once again we have God on our side. We have the numbers. We have belief. We have you and we have me. We have a commitment to the dream.

I cry every day over good Children who had Beautiful Dreams, but did not have the chance to fulfill them. They died in our streets when they should have been, could have been in school. They would have been. But our school system is pushing our Children out. The receiving schools are so overcrowded that they too are forcing Children our children to flee.

Remembering Dr. King's Dream and all the others that Lead the way for us. Please stop the closures of Chicago Public Schools. Stop the segregation in the Chicago Public Schools. Stop the discrimination in our Communities. Give us back our schools with all the resources placed back in them. We need our schools. Make everyone who closed our schools accountable for their actions.

Mayor Emanuel, you have done a poor job in Educating our Children. You knew the outcome would hurt us. Our Children's Blood is on your hands because you played an important part in our Children's lives. And you did not do the Right things by them. You stole their education. You stole their innocence. You stole their safety and their schools.

People please join me. We must push fear aside and walk on in Faith. God will lead the way. Save our Children; they are our futures. Anyone who knows God will not stand still for this. They will support the movement to Save Our Children. Come out speak up and be heard. I only want what is the best for all Children and their Families. I want you to please help us to raise money for elected School Board officials; ones who we the people put in office.

I would like to thank all the persons who are supporting us with the fight for our Children's Education, for our Neighborhood schools. To all my Children and Grandchildren… I love you. We will not stop fighting for you. Just hold on to your Dreams

Love Grandmom

References and Resources…