Recap, pictures and video from #Brownat60 nationwide events 
and how you can stay involved!
This past Saturday was the 60th anniversary of
Brown v. Board of Education
. Parents, students and educators nationwide marked the anniversary with a National Week of Action to demand our country renew its commitment to Brown's vision of equity and opportunity in education.
On May 13, over 500 people from around the country joined the Alliance to Reclaim Our Schools for a Week of Action kick off rally outside the U.S. Supreme Court. At the rally, Alliance member organization Journey for Justice released a report, "Death by a Thousand Cuts," and filed three Title VI complaints documenting the harm that corporate reform strategies like school closures and charter expansion have on public schools.
Read a full recap of the rally and watch the video recording here. And view (and share!) pictures from the event here.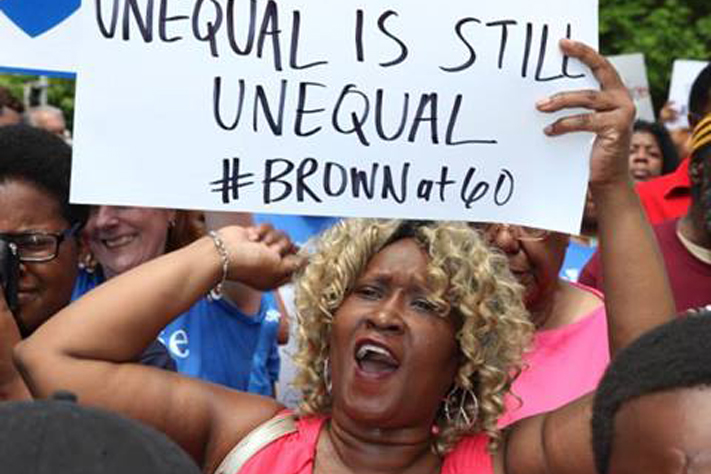 Throughout the rest of the week, Alliance members led an exciting
series of nationwide actions in over 20 cities
. From Boston to Topeka to Los Angeles, parents, students, teachers and community members took a stand together to demand the resources and opportunities all children deserve. You can find a summary of all the local actions
here,/a> and pictures from the events
here
.
Have pictures or video of your own? 
Share them with us on Facebook or Twitter with hashtag #Brownat60,
Want to stay involved with the Alliance? Sign on to the
Education Voter Pledge
and help make education a 2014 election issue! (Bonus: Join our Thunderclap action to keep #Brownat60 and the Voter Pledge trending on social media.) And don't forget to like the Alliance to Reclaim Our Schools on
Facebook
and
Twitter
.
Enjoy some of the tweets and pictures from the National Week of Action below!


The Alliance to Reclaim Our Schools comprises groups from across the country. Our national member organizations include: Alliance for Educational Justice, American Federation of Teachers, Annenberg Institute for School Reform, Center for Popular Democracy, Gamaliel Network, Journey for Justice Alliance, League of United Latin American Citizens, National Education Association, National Opportunity to Learn Campaign, and Service Employees International Union.
The National Opportunity to Learn Campaign
675 Massachusetts Avenue, 8th Floor | Cambridge, MA 02139
www.otlcampaign.org | 617-876-7700
Privacy Policy | Email Preferences